Event Based Vision Camera

SilkyEvCam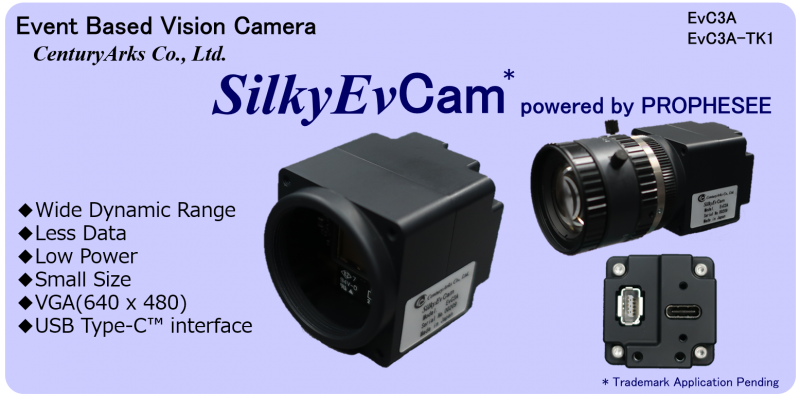 ✔Event Based Vision Camera
- PROPHESEE event-based vision sensor with PPS3MVCD
- Motion information is output asynchronously with independent pixel data
- High-efficiency data (data weight reduction of x10 to x1000 compared to frame-based cameras)
- Ultra-small size (30mm x 30mm x 36mm)
✔ Efficient new dimension machine vision software development
- Reducing the processing weight of AI/machine vision (high-efficiency data)
- SW development environment provided by PROPHESEE, METAVISION ™ Intelligence SDK of algorithm library can be used by adding a free plug-in
✔ Providing a ready-to-use Turn Key pack
 In addition to the standard set (camera, USB cable), turnkey pack * is also on sale
* Camera, USB cable, lens *, mini tripod, mobile case
(Lens: M0814-MP2 (computar), CS to C lens attachment)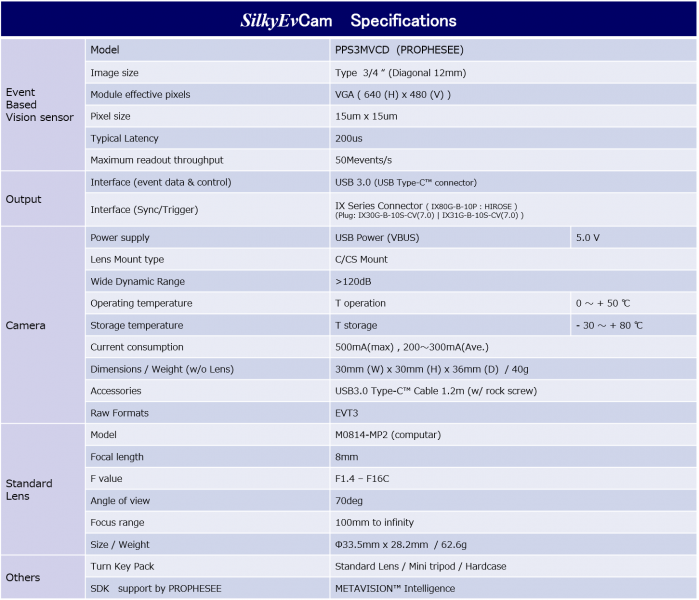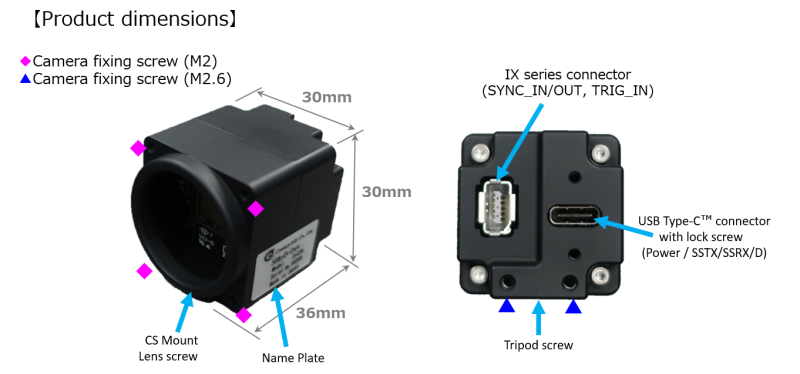 [Startup]
1. Download and install METAVISON ™ INTELLIGENCE from the PROPHESEE website.
2. Download the Plugin setup file from the CenturyArks product site and set up the Plugin file.
3. Connect SilkyEvCam to your PC by connecting the USB3 cable
4. Open a terminal on your PC and run metavision_player. Please check the image.
5. PROPHESEE's METAVISON ™ INTELLIGENCE site introduces various processing execution examples. Please try it.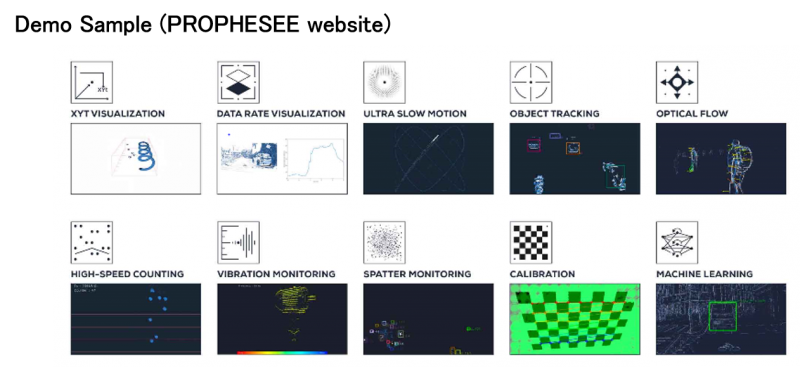 FirmWare

and Plugin Update Information

Serial No.00001 – 00132 is the target.
Please refer to the "FirmWare and Plugin Update Guide" and update.
This is an improved version of the following notes.
(Attention)

Notes on SilkyEvCam Operation (2020.12.16 updated)

PDF
| | |
| --- | --- |
| FirmWare and Plugin Update Guide | PDF |
FirmWare

and METAVISION™ HAL Plugin

Update

Archive

[Ubuntu 18.04 64-bit]

SilkyEvCamUpdaterPack_ubuntu_20210122.zip

Download

[Windows 10 64-bit]

SilkyEvCamUpdaterPack_win64_20210122.zip

Download